Grand Final 1986
From Snoutslouts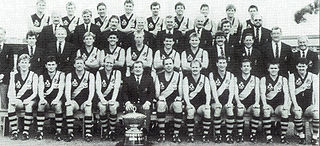 Glenelg went into the 1986 grand final rank underdogs and came out with the premiership. Coach Cornes somehow managed to cover the loss of Kernahan and McGuiness to Victoria, the retirement of Copping, and a series of injuries to again out-gun North Adelaide. On paper the 1986 side lacked the class of 1985 but their fierce commitment saw the trophy return to Brighton Road for a second successive year.
GRAND FINAL Saturday 4th October 1986
Glenelg:
7.2
12.4
17.5
21.9 (135)
North Adelaide:
3.2
6.7
9.11
12.15 (87)
Goalkickers
Glenelg - Hall 6, Symonds 3, Maynard 3, Marshall 2, Copping 2, Seebohm 2, Hodgeman, Kidney, Stringer.
North Adelaide - Hart 3, Poynton3, Robertson 2, Parsons 2, Antrobus, Bennett.
Best
Glenelg - Carey, Maynard, Hall, Symonds, Kernahan, A. Stringer, Hodgeman, McDermott, Kruse.
North Adelaide - Hart, Robertson, J. Riley, Poynton, Arnold.
Crowd: 50,538
Team line-ups
GLENELG

2. GIBBS, Ross

5. CAREY, Peter (C)

8. KRUSE, Max

9. SYMONDS, Tony

10. McDERMOTT, Chris (VC)

11. HALL, Tony

14. STRINGER, Wayne

16. MARSHALL, David (DVC)

17. KIDNEY, Robin

19. COPPING, Stephen

22. GARTON, Adam

24. HODGEMAN, Kym

25. STRINGER, Alan

26. DUTHY, Chris

29. HENWOOD, Wayne

30. MAYNARD, Peter

31. SEEBOHM, John

32. DONOVAN, Mark

36. SALISBURY, Scott

37. KERNAHAN, David

COACH: CORNES, Graham

NORTH ADELAIDE

1. RILEY, John

3. HART, Darel

4. TILLER, David (C)

5. DIETRICH, Grenville

7. KLOMP, Kim

8. JARMAN, Darren

11. CARLOW, Roger

13. ANTROBUS, Anthony

16. ARMFIELD, Michael

17. JARMAN, Andrew

22. RILEY, Stephen

23. WILDY, David

24. POYNTON, Michael

25. CAMPBELL, Matthew

28. PARSONS, Michael

29. CLISBY, Trevor

32. ARNOLD, Paul

34. ROBERTSON, David

35. BENNETT, Peter

42. REDDEN, Mick (VC)

COACH: NUNAN, Michael
Match Report from The Advertiser
GLENELG WINS AND WILL REMEMBER '




By Chief Football Writer GEOFF KINGSTON

They said it couldn't be done. Glenelg, weakened by injury, was the overwhelming underdog against North Adelaide in football's grand Final. It's journey to Football Park was a hopeless mission. But strengthened by bravery, the players scorned the opposition to build a wonderful monument - a memorial that will stand forever on the tableau of the Glenelg Football Club.

It's staggering 48-point demolition of North, which has been planning for six years for this failure, was a wonderful reward. And in victory Glenelg had little compassion for its victim.

The ill-feeling runs deep. On Saturday night at Glenelg - even in the full blown joy of success - they were unwilling to forget coach Mike Nunan for "fingering" Glenelg rover Greg Bennett during a 1975 tribunal hearing. Dobbing in another player was then judged unforgivable. Apparently it still is - at least at Glenelg. Nunan was playing for Sturt at the time.

Then there is the Stringer connection. Alan and Wayne quit North when Nunan arrived at Prospect and the anguish triggered by that move is always on the boil. But the clincher - as far as Glenelg was concerned - happened while Glenelg was savoring the delirious joy of victory. Defying tradition Nunan led his team from the stadium. It was an act that angered many at Glenelg. And the players will remember the snub when they meet again.

But on Saturday it was as if the Glenelg player's motto was "Do unto others as they have done unto you ... only do it first."

Had the North players sneaked a look at the chalk board in the Glenelg rooms before the game they might have got a clue about what was to come. Scrawled in big letters were the words "fierce aggression - control." And around the word "control" was a solid ring of chalk. Hit and hurt but don't lose control ... that was the message and the players reacted superbly.

It is doubtful whether a Glenelg side has ever been so destructive, more brutally efficient and it had many North players running scared as early as midway through the first quarter. Even usually good, tough competitors in the North side seemed intimidated and without their strength the capitulation was sudden and staggering.

And the player to inflict the first hint of trouble for North was Glenelg captain Peter Carey. He was the most sparkling gemstone in Glenelg's treasure trove of talent. The man is quite remarkable. His strength, his grace, his speed and his ability to beat swifter and jumpier opponents week in and week out, year in and year out, is awesome. And he did it all again on Saturday in a performance which ranks with some of his greatest.

Then there was follower Peter Maynard and centre half-forward Tony Hall. Together they pushed the timid North side right over the brink.

Maynard, free of any defensive constraints, sparked an epidemic of optimism. His confidence and skill together with the explosive talents of Hall transported the Glenelg fans on a tour of the bright lights of excitement.

Hall,entrusted once again with the difficult role of centre half forward, embarrassed Trevor Clisby, forcing his shift to the obscurity of the back pocket. And he continued to fire Glenelg when John Riley was shifted to quell him.

And, rover Kym Hodgeman, struggling with the pain of a groin and thigh injury, but buoyed by pride, shoved North further behind. He shouldn't have been allowed to play was well as he did. Against of the best- Darel Hart and Tony Antrobus - he should have been struggling. But his indomitable spirit and greed ensured he won his private battle.

On the wings Tony Symonds and David Kernahan were like a couple of left hooks right on the button. While they were attacking the faces on the North bench grew still and watchful. It was like an emergency was happening nearby - just out reach and they could do nothing about it.

Cementing all the individual skills together was a mix of courage and aggression that softened a few resolves in the North side. And the tackling. It was relentless, quick and at times suicidal. Glenelg centreman Alan Stringer embodied that commitment. He chased and tackled as if the North players were running down the street with everything he owned.

So also did Chris Duthy and Max Kruse in the key defensive roles. But no-one wanted victory more than defender Wayne Stringer who played with three pain-killing injections in a broken hand… and triumphed.

For North Adelaide the smell of shame will linger long in the nostrils.

Did it learn nothing from its defeat by Glenelg in last year's grand final? Did it not understand that rules are bent in grand finals, that things happen in that last game of the year which are sometimes outside the law, but things which must all be handled and conquered.

Sure, there were a few North players who did okay. But that is compensation for only a handful of mums and dads. For the bulk of the North players, the administration and the fans, the day was a tedious and painful waste of time. Certainly there was danger, but there was also glory if North had wanted it. But its unmitigated surrender was inexcusable. Its deception as a serious premiership threat was complete. And rather than base their happiness on a premiership it seemed three square meals a day, saying prayers, being courteous and doing some exercise was more important to many North players.

Rover Darel Hart battled almost single handedly against the odds. But he never flinched. Follower David Robertson, while refusing to play defence against Maynard, neverless was prepared to take risks, Michael Poynton near goals did well for the few chances that fell near him and John Riley and Paul Arnold left the stadium with some dignity.

For Glenelg, well it did what most people believed was impossible. Held together with needle and thread it stitched up its second premiership in a row. Now it is hungry for a third.



See also
1. Video of first half match highlights
2. Video of second half match highlights
3. Purchase a complete copy of this match on DVD
References
1. The Advertiser newspaper Monday 5th October 1986
2. SANFL 1986 grand final Football Budget