Graeme Bignell
From Snoutslouts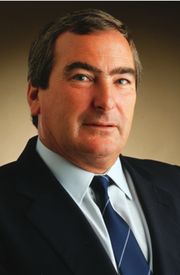 GRAEME BIGNELL
(March 8, 1938 - August 19, 2015)
With the Glenelg Football Club Graeme Bignell served as:
Vice-President 1972 - 1975, 1978 - 1986
President 1986 - 1989
Vice- President 1990 - 2015

Described in The Pride of the Bay as
"A successful businessman and strong leader, Bignell had a solid partnership with Graham Cornes when he was president in those halcyon years in the mid-to-late 1980's. A major benefactor of the Glenelg Football Club.""
He was awarded Life Membership in 1988.
Graeme drove a cab in Melbourne as a young man and then took on a month by month job selling cars (if he sold 12 in a month, he kept his job), whilst bringing up 2 children on his own.
Having become a phenomenal success at his chosen career, he moved to Adelaide in 1971 to take over the reigns of a failing Ford dealership. With his business partner Bib Stillwell, he built it into the formidable ADTRANS Group, an $800m publicly listed company which, when successfully merged in 2010 (Graeme continued as Chairman till his retirement after the transition), was worth about $4 per share. He was a visionary entrepreneur who summed up his philosophy to business and life in general when accepting the 2006 Ernst & Young Champion of Entrepreneurship for SA: "Look for the positives every day."
Graeme was widely known as a very generous man; with his time, his charitable support and his mentoring advice to staff, friends and family.
References
1. Pride of the Bay