Daniel Bell
From Snoutslouts
Glenelg Career Highlights
GFC League Player Number: 897
GFC League Debut: Round 22, 2002
Glenelg (2002)
Other Career Highlights
Melbourne (AFL) 2003 - 2010
* Stats current to end of 2010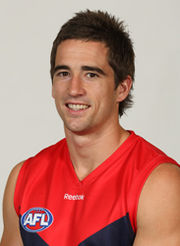 Biographical
Born: 13 Apr 1985
Height: 186 cm
Weight: 89 kg
GFC League Debut: 2002
Career
Originally from the town of Kingston SE, South Australia, Daniel Bell was a product of the Glenelg's country zone.
Bell played only one senior game for Glenelg before being drafted, against Norwood, in which he broke his arm.
He was drafted in the 2002 AFL Draft in the first round at pick number 14 overall. He made his debut in round 15, 2004 against the St Kilda Football Club. In 2005 he played 13 games, and in 2006 played 12 games, but was however hampered by injury.
In 2007 he got a regular starting spot in the Melbourne side, playing 17 games and even scoring 1 goal against the Western Bulldogs in round 7. In round 20, against Collingwood, he was involved in an incident with Collingwood's Ben Johnson. With his head over the ball, Johnson crashed into the head of Bell, and Bell laid motionless on the ground before being stretchered off the field. Bell initially feared that he might have broken his back, and that he couldn't breathe because of the impact. There were no hard feelings over the incident; however Johnson was suspended for 6 weeks for head high contact.
He did not play again after the incident in the 2007 season.
After injury plagued seasons in 2009 and 2010 he was delisted by Melbourne at the end of the Home and Away rounds of season 2010.
References
1. Wiki Article