Colin Churchett
From Snoutslouts
Career Highlights
GFC League Player Number: 278
GFC League Debut: Round 1, 1943
7 matches for South Australia, 30 goals
Six time leading goal kicker for Glenelg
Kicked over 100 goals in seasons 1950 (105 goals) and 1951 (102 goals)
SANFL Leading Goal Kicker, 4 years
Inducted SANFL Hall of Fame 2002
Member Glenelg Hall of Fame
played 1 game for South Melbourne (VFL) 1944

* Stats current to end of 1954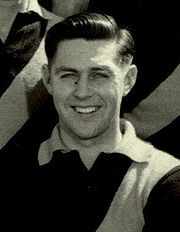 Biographical
Born: 30 January 1926
Height: 180 cm
Weight: 74 kg
Recruited from:
Previous Club:
GFC League Debut: 1943
Nickname: Churchy
Full forward Colin Churchett achieved the distinction of being the first post-World War Two footballer in the SANFL to register 100 goals in a season. He managed the feat twice, in 1950 and 1951, and all told kicked 555 goals in his 145 game league career (which includes one game played with South Melbourne in 1944, while on war service in Victoria).
With characteristic eloquence, Jeff Pash described Churchett as "a wizard when it came to the matter of directing the essentially irregular object that is a football through the goals". He did this with almost equal facility in weak Glenelg teams as he did when the club was battling for the premiership. Although not a particularly long kick, his unerring accuracy extended to both feet, a comparatively rare capability at the time. He was equally effective from a snap shot or when kicking on the run, but formidable ground play was his acknowledged forté, with his ability to get boot tellingly to ball in awkward situations unparalleled among South Australian full forwards of his time.
Churchett topped Glenelg's goal kicking list six times in seven years and only Jack Owens and 'Fred' Phillis have kicked more goals in the black and gold.

See also: further images.
References
2. Pride of the Bay