Chris Duthy
From Snoutslouts
Career Highlights Glenelg
GFC League Player Number: 666
GFC League Debut: Round 1, 1982
Glenelg 1982 – 1986, 1988 - 1992
Glenelg premiership player 1985, 1986
Glenelg Hall of Fame
Other Career Highlights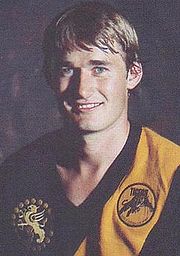 Biographical
Born: 19 June 1961
Height: 188 cm
Weight: 83 kg
Recruited from: South Broken Hill
GFC League Debut: 1982

Guernsey Number: 26
Nickname: "Duths"
Career
A tall, strong, competent defender from South Broken Hill, Chris Duthy gave useful service to Glenelg in 201 league games between 1982 and 1986 and from 1988 to 1992. He kicked 21 goals.
In 1987 he joined Fitzroy, but injury restricted him to just 3 senior games. He struggled with injury again on his return to the Bays in 1988, but his last three seasons saw him approaching his best form again.
Duthy was at full back in Glenelg's 1985 and 1986 grand final defeats of North Adelaide. His last league game was the Tigers' grand final loss to Port Adelaide in 1992. He had earlier also played in the losing grand finals of 1982 and 1990.
See also
Reference
3. "Pride of the Bay"