Bruce McGregor
From Snoutslouts
Career Highlights
Coached Glenelg 1933 - 1935
Coached Glenelg to their first premiership in 1934
OTHER
102 games and 173 goals for West Adelaide, 1923 – 1929
Captain coach of West Adelaide, 1926 – 1929
Member of premiership side for West Adelaide, 1927
Four times best and fairest for West Adelaide
Played 22 matches for South Australia, captain 3 years
Dual Magarey Medalist, 1926, 1927
Coached West Adelaide, South Adelaide, Glenelg, North Hobart, 14 years.
Inducted SANFL Hall of Fame 2002
Harry "Bruce" McGregor was Glenelg's first coach of a premiership team, guiding the 1934 team to a memorable win.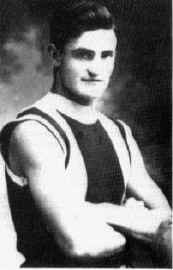 After winning a Hurley Medal for best and fairest in the Broken Hill Football League in 1922 Bruce McGregor was wooed by Norwood, Port Adelaide and West Adelaide. Eventually, he elected to join West, where another Broken Hill footballer, Bobbie Barnes, had made a name for himself, and over the next 7 seasons he proceeded to emulate, and indeed arguably outshine, his compatriot.

Records vary, but it is possible that McGregor won West's Best All Round Player Award as many as 6 times during his 102 game career with the club. What cannot be disputed, however, is that he won both the 1926 and 1927 Magarey Medals.

Strong overhead, McGregor was also an excellent kick, equally adept over long or short distances, and as capable with the drop kick as he was with his trademark torpedo punt.

In 1927 McGregor not only landed the Magarey Medal, he was also West Adelaide's star player throughout a finals series which culminated in a 13 point challenge final victory over North Adelaide.

With the economic privations of the Depression beginning to hit home in 1930 McGregor, along with team mate Bob Snell, the 1929 Magarey Medallist, was lured to Tasmania, where the money on offer was significantly better than at home. He spent 2 seasons as captain-coach of North Hobart but was unable to steer his charges to a flag.

In 1932 he returned to South Australia as captain-coach of South Adelaide, only to stand down as a player after just 2 games, but coached the club for the rest of the year. In 1933 he was appointed coach of Glenelg and coached the Bays to their first ever premiership in 1934.
References