Bradley Close
From Snoutslouts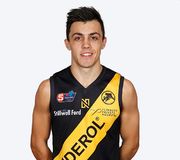 Glenelg Career Highlights
Other Career Highlights
Biographical
Born: 30 July 1998
Height: 181 cm
Weight: 68 kg
Previous Club: North Gambier
GFC League Debut: 2018
Guernsey Number: 23

Brad Close is a hard running half forward who applies defensive pressure in the forward lines, making him a key component in the 2019 premiership for Glenelg.
Career
After managing 7 League matches in 2018, Brad Close was quick to become a mainstay in Glenelg's forward 50m arc after featuring in all 21 of the Bays matches en route to earning a 2019 Premiership Medal. Famously Close is seen in photos sporting a black eye from the Grand Final which came from friendly fire in the first quarter.
From Mount Gambier originally, he is a silky-mover who plays an unselfish style of play to feed his team-mates in front of goal. In 2019 he averaged more than 16 disposals and four tackles across half-forward which ensured he was in contention for SANFL's Powerade Breakthrough Player of the Year Award.
He was recruited by the Geelong Cats with the 14th pick in the 2019 rookie draft. Perhaps fortunate to secure a League debut due to injuries to other Geelong players, Close made good use of his opportunity, featuring in 8 games in his first season.
References
2. Wikipedia