Alf Bailey
From Snoutslouts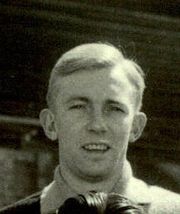 Glenelg Career Highlights
Other Career Highlights
Biographical
Born: 3 March 1932
Height: 184 cm
Weight: 73 kg
Recruited from:
Previous Club:
GFC League Debut: 1951
Guernsey Number:
Career
Alfred "Alf" Bailey was described in a 1953 pre-season review as "one of (the) State's most promising players at centre. Real dasher."
News journalist Laurie Jervis described him as having "fine high markings, great pace, and lashings of courage". His only fault that Jervis could identify was that he kicks could range from deadly accurate long drop kicks into the forward lines, to sprayed mis-kicks going anywhere. He attributed this to Bailey's phenominal pace and unusual style of dropping the ball on to his boot from a higher position than most footballers,
He was selected for the State second 18 in 1952 but was unable to play.
A talented all round sportsman, he played District cricket for Glenelg as an opening bowler, and played three first-class cricket matches for South Australia between 1953 and 1956.
References
1. Pride of the Bay