2009 Under 18 Premiership
From Snoutslouts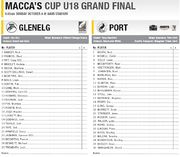 1st
2nd
3rd
Final
Pts
Glenelg
5.3
8.6
13.11
16.11
107
Port Adelaide
3.1
4.3
5.5
6.7
43
Sun 4-Oct-2009 9:05 am at Football Park
Written by Brenton Hole (Talent Manager)
Following an excellent season the Glenelg Under 18s fronted up to the Port Adelaide Magpies in the Grand Final.
After a reasonably even first quarter which saw the Bays lead 5 goals to 3, the pattern continued with the lead being increased every quarter with the final scores being 16-11 to 6-7, a 64 point margin.
It was a supreme team effort with all players doing their bit. Their use of the ball was very good especially the foot skills.
Seb Tape did a great job in defence on a good opponent, Craig Pitt was tireless on the ball, Nick Ramsey completed a wonderful season, Christian Howard was excellent running out of defence, Matthew Snook picked up many possessions, Josh Teakle worked hard around the ground and Nick Cane was excellent on the wing.
A special mention to the lads that missed out as we know they are all good players as well, and this certainly was evident with the quality of our depth of talent.
Well done to Ian Cox and his assistants as well as all of the support staff.
Goals -
D Armfield, J Trembath 3, H Jolly 2, N Ramsey , D Scott-Collings, A Bradley, C Howard, P Contin, J Teakle, C Pitt, J Giddings 1
Best -
Craig Pitt, Seb Tape, Matthew Snook, Nick Ramsey, Christian Howard
See also