2007 Reserves Premiership
From Snoutslouts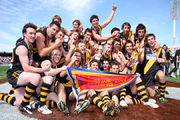 1st
2nd
3rd
Final
Pts
Glenelg
6.1
9.4
12.8
16.13
109
South Adelaide
2.1
5.6
7.9
10.11
71
Tigers take flag
Article from: The Advertiser
GLENELG broke its premiership drought in the reserves yesterday, defeating South Adelaide by 38 points in the curtain-raiser at AAMI Stadium.
Leading at every change, the minor premier turned around its disastrous second semi-final loss to the Panthers by winning its first reserves flag since 1982 in emphatic fashion.
Tigers wingman Josh Willoughby set the tone early for his side, kicking the game's first two goals in as many minutes on his team's way to a six-goal opening term.
Creative midfielder Lucas Block, who kicked three goals for Glenelg, was awarded the Bob Lee Medal for best player on ground while Brad Vallance showed plenty of courage on his way to booting a game-high four goals.
Scott Lewis had an influence off half-back while defenders Lachlan Button, Aaron Day and Tom Wallent battled grimly.
South was best served by Bradley Crabb and former Port Magpies midfielder Matt Sinkunas.
Team stats
| | | | |
| --- | --- | --- | --- |
| Player | Kicks | Marks | Handballs |
| Lewis, Scott | 21 | 9 | 15 |
| Horan, Jack | 15 | 2 | 16 |
| Block, Lucas | 16 | 4 | 10 |
| Lally, Angus | 14 | 7 | 12 |
| Kellock, Jarrod | 18 | 4 | 5 |
| Vallance, Bradley | 12 | 7 | 7 |
| Willoughby, Josh | 11 | 6 | 6 |
| Wallent, Tom | 10 | 7 | 5 |
| Fosdike, Jack | 8 | 3 | 6 |
| Plant, Robert | 8 | 2 | 5 |
| Graham, Matthew | 9 | 4 | 3 |
| Kane, Chris | 7 | 5 | 5 |
| O'Grady, Richard | 10 | 7 | 2 |
| Day, Aaron | 9 | 4 | 1 |
| McGregor, Lachlan | 9 | 4 | 1 |
| Grosser, Trent | 6 | 1 | 3 |
| Treloar, Tom | 2 | 2 | 7 |
| Bell, Brad | 3 | 3 | 5 |
| Button, Lachlan | 3 | 1 | 4 (+ 9 spoils) |
| Sutherland, Jason | 2 | 1 | 4 |
| Tutt, Ryan | 1 | 0 | 1 |
See also