1982 Reserves Premiership
From Snoutslouts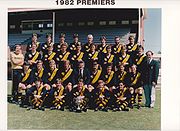 1st
2nd
3rd
Final
Pts
Glenelg
1.1
6.10
9.11
12.16
88
Sturt
4.4
6.4
11.7
12.10
82
Saturday 2nd October 1982, Football Park.
BEST –
Glenelg: French, Harrison, Mason, Hewett, Hall, Hurley, Tait, Otto.
Sturt: Parsons, Hargreaves, Ford, Warren, Parker, Pfeiffer.
GOALS –
Glenelg: Harrison 4, Hartfield 3, Hercock 3, Rady, Garton.
Sturt: Francis 4, Donaldson 2, Hargreaves, Fitzpatrick, Taverner, Reed, Brand, Brown.
Team
2. Peter French
13. Daryl Rady
15. Peter Hurley
19. Jamie Mason
21. Brenton Hartfield
22. Adam Garton
29. Chris Hercock (Capt)
32. Gary Williams
33. Keith Kuhlmann
34. Craig Staude
35. Ian Otto
36. Mark Slade
37. Michael Bellman
38. Michael Harrison
39. Gavin Walsh
40. Chris Veide
41. Graeme Radke
45. Anthony Hall
47. Michael Watson
50. Simon Tait
54. Mark Motlop

COACH: Steve Hywood
Match Report
Tigers claw to win by whisker

by Stephen Butler Sunday Mail 3rd October 1982

Glenelg won its second successive SANFL Reserves premiership in an enthralling grand final at Football Park yesterday.

Glenelg's win ended a fairytale finals series for the Blues who came from fifth position to contest the grand final.

The Tigers won in the closing stages of an exciting final term.

Tigers captain Chris Hercock was presented the Reserves Premiership Cup immediately after the game and led his side around the arena.

In a match in which a strong northerly breeze played a big part, neither side was able to use the wind more effectively.

Both sides kicked long into the forward lines when attacking the southern end.

Garton showed great courage to burst through a pack and gather the ball on the run at the 17-minute mark. He turned and goaled on the run to put Glenelg back in front by three points.

The last scoring shot of the match came from Tony Hall when he hit the post seconds before the siren after marking under immense pressure near the square.

He attempted a banana kick which rattled the left post to give the Tigers their ultimate six-point break.

Hercock, accepting the cup, said it was always a pleasure playing against Sturt.

He congratulated his team and the Sturt players.