1981 Reserves Premiership
From Snoutslouts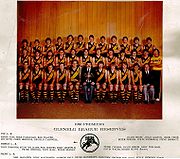 1st
2nd
3rd
Final
Pts
Glenelg
4.3
4.3
6.6
7.8
50
Port Adelaide
0.1
1.8
4.10
6.12
48
BEST –
Glenelg: Greenslade, Bellman, Rogers, MacVicar, McInerney, Lunnis, Barratt, Hurley.
Port: Baker, Leslie, S.Williams, O'Donovan, C. Ebert, Gill, Natt, Whitehead.
GOALS –
Glenelg: Farquhar 2, Phillis 2, MacVicar, Mason, Anderson.
Port: A. Williams, Hamill, Craig, Baker, S. Williams, Whitehead.
Tigers' heart stopper
Article from: The Sunday Mail. by Trevor Gill
Glenelg survived a heart-stopping final term to beat Port Adelaide by two points in the Reserves grand final at Football Park yesterday.
The Tigers wrestled a slender lead back off Port at the 23-minute mark of the last quarter when Michael Farquhar steered through the victory goal.
The Magpies earlier took the lead off Glenelg and that was the start of a gruelling battle of defences.
Both sides consistently forced the ball into attack, but were turned back by the desperate defenders.
It was Glenelg's revenge victory after being beaten by Port in last year's Reserves grand final, and its first premiership since1967.
It was a classic curtain-raiser to the League grand final between the same two clubs and a triumph for Glenelg's Reserve coach Steve Hywood.
The hero of Glenelg's defence was veteran Malcolm Greenslade, who played the final with all the relish of a youngster.
He was the "Gibralter Rock" of the tiger backmen, undoubtedly a major reason for the Glenelg victory inthe final term.
But it was a credit to both sides the way they fought out what was an unbelievably perilous final 15 minutes.
Glenelg leapt to an early lead, restricitng Port to only one point in the first quarter.
The Magpies had their chance to work back into the game in the second term, but managed only one goal from eight scoring shots.
In that same term Glenelg did not score, but in the second half gusty conditions again restricted the scoring and it was only Glenelg's determination which allowed it to last for victory.