Tony McGuinness
From Snoutslouts
Career Highlights Player
GFC League Player Number: 662
GFC League Debut: Round 17, 1981
Glenelg 1981 – 1985, 1998
Magarey Medallist 1982
Glenelg Best and Fairest 1982
Glenelg premiership player 1985
Glenelg Hall of Fame inducted 2002
SANFL Hall of Fame inducted 2002
Played 12 Rep games for South Australia
All-Australian 1988, 1992, 1993
Career Highlights Coach
Glenelg 1998 - 2000
Finalist 1999
Other Career Highlights
Footscray 1986 - 1990
Footscray Best and Fairest 1987
Adelaide 1991 - 1996
Adelaide Best and Fairest 1993
Adelaide Club Captain: 1995-96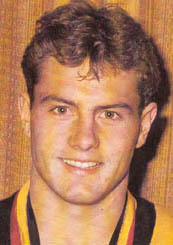 Biographical
Born: 06 May 1964
Height: 176 cm
Weight: 76 kg
Recruited from: Glengowrie High School
GFC League Debut: 1981
Guernsey Number: 8
Nickname: Freddy
Career
Dynamic, tireless, direct and pacey, Tony McGuinness was without doubt one of the finest rovers of the past twenty-five years. If he had a weakness it was that he tended to be one-footed - the left - but what a foot it was, whether sending a daisy-cutter down a team mate's throat from a distance of twenty or thirty metres, or bisecting the uprights from a tight angle near the boundary on fifty.
McGuinness wasted no time in making his mark in top level football, winning a Magarey Medal with Glenelg in 1982 while still aged just eighteen. He won the Bays' best and fairest award the same year, and would later also reap the premier individual rewards at Footscray (1987) and Adelaide (1993).
The last of Tony McGuinness' 113 SANFL games with Glenelg was the 1985 grand final in which North Adelaide was despatched to the tune of 57 points. McGuinness' 2 goals in that match brought his career tally with the Tigers to precisely 200.
Between 1986 and 1990 he played a total of 109 V/AFL games for Footscray, amassing 108 goals. With the Crows from 1991 to 1996 he added a further 113 AFL games and 61 goals.
Tony McGuinness returned to Glenelg as non-playing coach from 1998 to 2000 but proved unable to resurrect the fortunes of the once proud club.
Subsequently he commenced as an Assistant Coach at Port Adelaide Power AFL side in 2005. He resigned from this position at the end of the 2006 season, citing outside business interests and wanting to spend more time with his family.
Life after playing has seen McGuinness set-up the McGuinness-McDermott Foundation with fellow former Tiger Chris McDermott. He also ran a sports retails business, Rowe and Jarman, which he sold to Amart All Sports in 2006.
See also Gallery Tony McGuinness
References
1. Wiki Article