Max Proud
From Snoutslouts
Glenelg Career Highlights
GFC League Player Number: 1014
GFC League Debut: Round 5, 2012
Glenelg 2012 –
Best and fairest 2018
State representative 2019
Premiership player 2019
Captain 2020
Under 18 premiership player 2010
Reserves premiership player 2011
* Stats current to end of 2020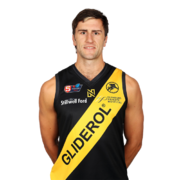 Biographical
Born: 14 February 1992
Height: 190 cm
Weight: 92 kg
Recruited from: Plympton FC
GFC League Debut: Round 5 2012 (vs South @ Glenelg)
Guernsey Number: 19
Career
Max Proud was a part of the 2010 Tigers Under 18s flag under Kris Massie and also played in the 2011 Reserves premiership that Ken McGregor coached.
Known as a reliable and hard at it competitor, Proud debuted back in 2012 in a night game against South Adelaide. "What I remember about that evening is I stood Andrew Ainger and Kris Massie was our coach."
Proud had established himself as a regular in the Bays defence over the next few seasons, but by the end of 2017 he was at a crossroads. He had almost reached his threshold, having endured a series of serious injuries which ensured he would play just 20 games in three years.
A broken wrist, broken finger and a series of hamstring strains were nothing in comparison to the depressed cheekbone he suffered from an accidental knee to the face from Norwood's Lewis Johnston in Round 6 of 2017.
After having surgery, which included four plates inserted into his face for stability, Proud spent the rest of the season sporting a clear face mask for protection.
It forced him to reevaluate his SANFL career but since deciding to continue in the black-and-gold, Proud experienced richly-deserved success.
He didn't miss a game thereafter, culminating in him playing in all 21 of Glenelg's games during 2019's historic premiership season.
Not only did he claim a premiership medal, on the way he also added the 2018 J. H Ellers best-and-fairest, a berth in the 2019 West End State team and selection in the 2019 The Advertiser SANFL Team of the Year to his resume.
Proud, 2019's vice-captain, was elevated to be the Bays' skipper in 2020 when Chris Curran stepped aside due to a Riverland work placement.

Family History
The Proud family has a strong and rich history in our national football code starting with Max's grandfather Bob.
Robert "Bob" Proud was a part of the 1953 South Australian side which played in the national carnival that year on South Australian soil in his only full season of league footy at North Adelaide. Bob had a unique SANFL career playing just 36 league games, along with the four state matches in the '53 carnival. This total included seven finals match and two season deciders.
Max's father Tony played a single SANFL League game with West Adelaide in 1979 before he went overseas, working in the middle east. He returned to South Australia and became an outstanding community and rural footballer, playing at Loxton North, Encounter Bay, Scotch College and Sacred Heart Old Collegians.
There is also a prominent netball talent in the family, Sydney Swifts mid-courter Maddy.
References