File:Teamphoto1950.jpg
From Snoutslouts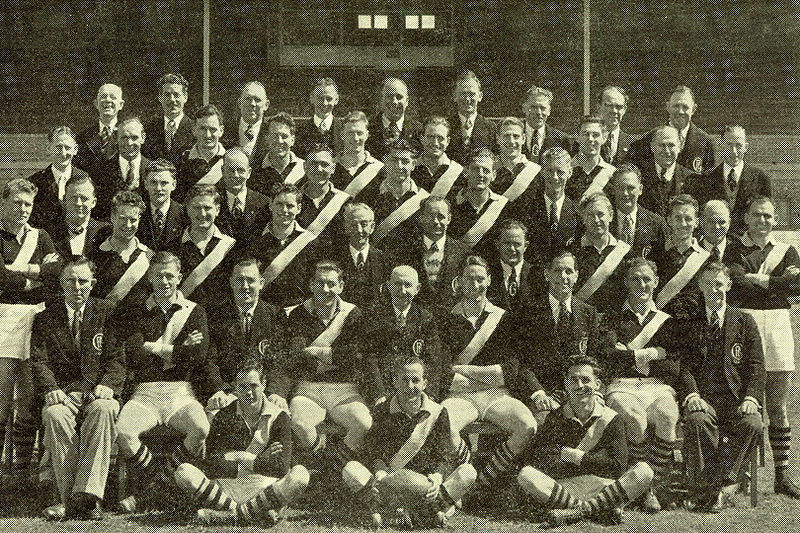 Size of this preview: 800 × 533 pixels
Full resolution
‎ (1,620 × 1,080 pixels, file size: 709 KB, MIME type: image/jpeg)
Glenelg Football Club 1950
Back Row: J. Link (doorkeeper), R. Freeman (Social Committee), A. Chenoweth (Trainer), V. Carey (Trainer), G. Brown (Trainer), R.R.J Heneker (Committee), H. Thitchener (Trainer), F. Bougard (Social Committee), J.C Mitchell (Committee).
Fourth Row: K.K. Milhinch (Timekeeper), R.J Corbett (Social Committee), D. Taylor, C.E. Window, A.C. Donaldson, K. Teagle, R.G. Hunt, C.J. Churchett, N. Copley (Room Stewards), A. Brown (Chiropodist).
Third Row: Dr. O.W. Bowering (Medical Officer), J. Whipp (Boot Studder), R.C Temby (Committee), J.A. Miller, D.F. Laffin, L. Taylor, S.R.P. Walker (Committee), K.A Oliver (Selector), S.G. McGibbon (Colour Stewards).
Second Row: A. Hannaford, W.S Wickham, M.R. Boehm, V.M. Kempson, G. Baker (Trainer), K.V Forbes (Committee), H. Milford (Deputy Head Trainer), E.R Robjent, G.N. McPherson, W.S. Trenorden.
First Row: R. Hopgood (Head Trainer), W.H.G. Prior, E.R Curnow (Deputy Chairman), J. Taylor (Captain and Coach), E.Rix (Chairman), A.J. Crabb (Vice Captain), H.E. Clamp (Secretary), J.R. Karutz, W.J. Milinch (Treasurer).
In Front: K.P Haussen, K.F. Grimwood, C. Brooker.
Absent Officials: W. Brown (Committee), P. Winkler (Selector), A. Smith (Trainer).
File history
Click on a date/time to view the file as it appeared at that time.
(Latest | Earliest) View (newer 50) (older 50) (
20
|
50
|
100
|
250
|
500
)
(Latest | Earliest) View (newer 50) (older 50) (
20
|
50
|
100
|
250
|
500
)
File links
The following page links to this file: