Don Laffin
From Snoutslouts
Glenelg Career Highlights
Other Career Highlights
SANFL Player Life Membership in 1957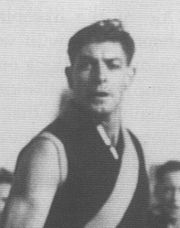 Biographical
Born: 20 February 1927
Height: 193 cm
Weight: 92 kg
Recruited from:
Previous Club:
GFC League Debut: 1946
Guernsey Number:
Career
Don "Lothar" Laffin was neither the tidiest nor most spectacular of footballers, and frequently overshadowed by his partner in the ruck Allan Crabb, nevertheless he was always wholehearted and honest in his approach to the game. According to coach Johnny Taylor he played at his standard every week – week in, week-out you could rely on him to give it his best.
Laffin gave Glenelg consistently useful service over the course of a ten season career that ran from 1946 to 1955. During that time he played a total of 136 SANFL games, including the losing grand final of 1950 against Norwood, and booted 83 goals.
In a clash with Norwood at the Parade in 1949 he lived out the dream of every league footballer when he capped a remarkable last gasp Tiger recovery by kicking the winning goal of the match right on the siren.
References
1. Pride of the Bay