Walter Scott
From Snoutslouts
Glenelg Career Highlights
Coached Glenelg, 1936 - 1937
(finished 7th and 8th)
Other Career Highlights
Norwood 1920 - 1932

174 games, 3 goals
Captain of Norwood 1926 - 1930
Member premiership teams for Norwood 1922, 1923, 1925 and 1929 (captain/coach)
Six time Norwood best and fairest 1920, 1921, 1923, 1926, 1928, 1930

Dual Magarey Medallist 1924 and 1930
38 games for South Australia (National Record)
Coached Norwood, 1926 - 1932
Coached West Adelaide, 1933 - 1935
Member of AFL Hall of Fame
Member of SANFL Hall of Fame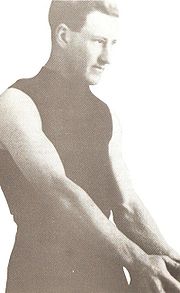 Career
Walter "Wacka" Scott was one of South Australia's finest ever defenders and arguably the most illustrious name in the history of the Norwood Football Club.
His abilities were evident right from the start of his League career in 1920 when, in a Norwood team that was good enough to play off for the premiership, he won the club's best and fairest award.
The following season saw Scott (known affectionately as 'Wat' or 'Wacka') make the first of what would end up being an Australian record 38 consecutive interstate appearances. He was also runner up in the Magarey Medal despite receiving the same number of votes as the winner, South Adelaide's Dan Moriarty (and with a change of rules, a Medal was awarded retrospectively by the SANFL in 1998). Consolation was later to arrive in the shape of the 1924 and 1930 Medals.
Along with Dan Moriarty and Jack Hamilton ( who was later replaced by Jim Handby), Walter Scott completed South Australia's most celebrated interstate half back line. Normally placed on a flank, with Moriarty in the middle, Scott was arguably the most defensively-minded member of the unit. A strong, safe mark when in front position, he was also a redoubtable spoiler from behind, with uncanny judgement of the flight of the ball the key to both skills. Sound judgement was also a major element in Scott's prowess as a ground player.
A club record six times winner of the Norwood best and fairest award, Walter Scott's career effectively ended after he sustained a serious knee injury in the last minor round game of 1930 against Port Adelaide. He did later play 2 further games, taking his final tally to 174, but all this did was prove to him that his knee was genuinely 'gone'.
During the 1930s, Walter Scott undertook coaching stints at Norwood, West Adelaide and Glenelg, but failed to lift any of these teams above 3rd place on the ladder. As a player, however, there have been few better.
References