Simon Hele Interview 2010
From Snoutslouts
An interview with Simon Hele, as published on Snouts louts forum.
NOT TO BE COPIED without permission from snoutslouts.org and Simon Hele.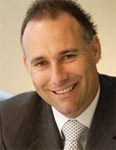 SL: Simon, thanks for sparing your time for this interview.

When we were throwing around names of Glenelg Legends and Larrikins that people may be interested to hear from, your name was jumped upon by the faithful with a "yes please!"

You are definitely a favorite son of the Bay fans.
There are all sorts of stories that claim that when you were growing up, all you wanted to do was play for the Bays. What's your memories of growing up in the Glenelg Area, did you get to many games?
SH: Yes that's very true, all I wanted to do was play for Glenelg. I was the kid who would come to most training sessions…I use to go over the road on the corner to Pete's fish shop and get 50cents worth of hot chips and sit in the grandstand and watch training. I did this from the age of about 10…loved it and dreamed one day I might be out there.

I got to more training sessions than I did to games, as I could always walk or ride my bike to Glenelg Oval, but it was difficult to get to away games. As it turned out a friend of mine's family, who lived around the corner, were mad Norwood supporters so when Glenelg were playing away I would go with them to the footy…I just loved footy I guess.
How did you end up at Glenelg?
I went to Paringa Park Primary School (famous for Stephen Kernahan) so I was zoned to the area. Laurie Rosewarne was Development Manager at Glenelg at the time and he was terrific to me. I was a very quiet and shy kid and he always showed a lot of interest in me and encouraged me from a very young age – he was the one who made sure I came out to the special squads from 12 years old…he was a huge influence for a very long time.

I then went on to Sacred Heart and played my senior school footy there. That was terrific, particularly the latter years – they had (and still do have) a fantastic football culture. They ran the 1st 18 like a league football side so they got you prepared and gave you every chance to successfully transition to a league club.
You played 201 league games, and was Captain in 2001. Did you win any club awards?
Fortunate to win 3 ER Curnow Awards and was Runner Up in the Best & Fairest 3or4 times (Chigwidden has all my B&Fs)
You must have some great memories from playing at the Bay. Please tell us about a few of your highlights.
Yes, when you are at a club for so long there are so many memories

In terms of games you always remember a few - I think the stand out for me was my 1st game – we played Port at Football Park in front of 26,000 people…I was just rapt to get the opportunity and got to realize my childhood dream.

Mark Williams first match as coach against Port Adelaide at Glenelg Oval – I remember running out and there were 12,000 people…..it was like when I use to come and watch in the 80's. Also Mark's first coaching game back at Alberton was very memorable – we won by plenty.

I really enjoyed playing for South Australia also….we had some really good success in that time and I got to work with some terrific people.

One highlight that I will mention was the opportunity I got to coach the Glenelg Special Squads and I had the great pleasure in that time of coaching Chad Cornes, Matthew Bode and Joel Bayliss's older brother. I don't reckon Joel has changed one bit – cheeky, passionate and loved the footy club.

But without doubt the greatest highlight is the people you meet and the friends you make – football clubs have this unique ability to bring people together from all walks of life for the one common cause of supporting their football team….that' what I love about it.
Do you wish you were born 5 or 10 years earlier, or 5 or 10 years later?
No not at all. When I was growing up the SANFL was the pinnacle football competition in this state and Glenelg was the club I loved. Whilst I would have loved to have played in more successful teams that wasn't to be and some people have to represent sporting clubs and organisations through difficult times, that's just the way it is and was. We have a close knit group of friends that came through this tough era, and above anything we are grateful for the strong friendships we have – we all craved more success as a team and we still talk about it…but unfortunately it wasn't to be.

Looking back I have learnt a great deal through those times, so no I don't wish for another time.
Did you ever look like heading off to the AFL?
When I first started playing league football the Crows had just come into the competition so AFL clubs weren't allowed to draft from SA so that limited my opportunities. Having said that I was fortunate to be invited to do the pre-season with Adelaide at the end of 1991. They invited 19 players from the SANFL and could take 8 in the draft (Ruccitio and Modra were part of that 8 ). It was a great experience for me.

The thing that is most memorable from that time was the Rapid Bay Pre-Season Camp and the whole 'fire walking' debacle when Nigel Smart burnt his feet….I was 4th in line and I can tell you I was not keen on doing it (as most weren't), so whilst we felt for Nigel at the time it did mean Cornsey cancelled the whole thing so we didn't have to do it….thank God.
You had a range of coaches at Glenelg. Hodgy, Williams, Symonds, W Stringer, McGuinness and Honor. Are you able to briefly summarise your thoughts on them?
Hodgy – always grateful to Hodgy as he gave me my first opportunity to play league football. My 2nd year was hard under him but I learnt a lot of lessons that year…love catching up with him as we do from time to time
Williams – biggest male influence on my life….very thankful to have had him as my coach…a great person.
Symonds – had my best year of footy under him…he loves this footy club as much as anyone I've ever met – a great friend
Stringer – I missed the whole year with injury but it was a tough year for the players
McGuinness – excellent coach, particularly with good players at his disposal (1999) as he coached at a very high level…wish he was given another couple of years
Honour – gave me the opportunity to captain the club which I am very grateful

I was also very fortunate to play under John Cahill, Alan Stewart and Michael Nunan (couple of times) in State Football and that was a great highlight.
You played along side some terrific players, who did you rate as the best of them?
I have been fortunate to play with some very good players – I don't want to name them because I don't want to leave anyone out. However one stands out:
Nick Chigwidden – he encompasses everything about greatness as a footballer and as a person - work ethic, desire, mental toughness, selfless, leader, passionate, always did more and gave more than was expected. I might be biased but out of those players who have represented the Glenelg Football Club and that never won a premiership, he deserved it the most.
You also played against some terrific players, who stood out the most?
Yes there was some great players, some champions – McIntosh, Aish, Naley, Pavlich.
In terms of players I stood over many years I would say Andrew Payze and David Hutton – I stood both guys for a longtime and we all got to understand each others games pretty well… .these guys played consistently good football, in good teams for a long-time and I respected the way they played. I use to always stand Che Cockatoo-Collins in my early years, he was young but he could play.
Any funny moments that can be shared?
'Can be shared' is the critical part of the question and the thing I can't get past.
Do you have any involvement with Footy at the moment?
No, just a supporter
SANFL has changed a lot in the last 10 years, what's your thoughts on the current version of our game? What are the important qualities that a "modern" play must possess maybe compared to your era?
The SANFL is a very healthy competition which still caters for all types of qualities and abilities. The AFL certainly has a bias towards athletic ability as the years have rolled on (understandably given the professional nature of that competition) but thankfully if you've got ability and desire you'll still get the opportunity to play league football in the SANFL….and I hope it's always like that.
Your last game for Glenelg, will be remembered forever by everyone watching and especially those on Snout's Hill. Are you able to summarise what happened please? (including THAT goal)
Well it took me until my 201st game to 1. kick a half decent goal and 2. kick a goal that wins us a game. Many of my coaches would suggest I should have been kicking those types of goals long before my last game. Anyway it was good to kick it and win the game – that night I was drinking out of the Carey/Darley Cup we won with team-mates, friends and supporters so it was a nice way to finish my career.
Quick word association
Lennies – memorable
Jules – shocking
James Byrne - fit
Injuries – Part of the deal
team-mates – had lots – lucky to call some my close friends
Thanks!