Matthew Snook
From Snoutslouts
Glenelg Career Highlights
GFC League Player Number: 1007
GFC League Debut: Round 21, 2011
Glenelg 2011 –
Best and fairest 2015, 2017, 2020
Premiership player 2019
Jack Oatey medallist 2019
R.O.Shearman medallist 2020
* Stats current to end of 2020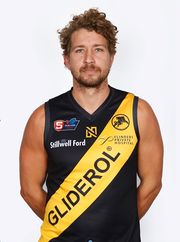 Biographical
Born: 26 March 1992
Height: 182 cm
Weight: 84 kg
GFC League Debut: 2011 - Round 21 vs West Adelaide
Matthew Snook is a hard working in-and-under midfielder who was a key player in Glenelg's 2019 premiership season and won the best afield medal in the Grand Final.
Career
Starting his career at Brighton Road in the Under-15 development squad, Snook also featured in Glenelg's 2009 Under-18 premiership in which the Tigers only lost two matches throughout the season. He followed that as best on ground in the 2010 Under 18 Grand Final. He represented South Australia in the national Under 18 competition.
Making his League debut in Round 21 of 2011, Snook entered senior ranks with fellow premiership winning team-mates Brad Agnew, Max Proud, Carl Nicholson and Andrew Bradley.
With Matthew struggling to get a regular place in the League side he was almost lost to South Adelaide in 2013 when his brother Shannon transferred there.
After years with a struggling Glenelg side, Snook nonetheless developed as a player, winning the Bays best and fairest award in 2015 and then again in 2017.
With the arrival of Mark Stone as coach in 2018 Snook became an integral part of developing the new style of play, the team finishing 2018 with 6 wins in a row. In 2019 he was hampered by a pre-season groin complaint and eased into Glenelg's line-up early in the year through the reserves, but Snook finished on the dizziest high possible.
Casting aside a "poor" individual preliminary final performance against Adelaide in the most emphatic way Snook claimed the Jack Oatey Medal as best-afield in the Tigers' 28-point Grand Final triumph over Port Adelaide. The tough-as-nails Snook had 28 possessions, eight tackles and seven clearances to lead the way for the Bays who were never headed.
On an individual basis he had even greater recognition in season 2020, winning the R. O Shearman Medal, voted on by the League's coaches. He is the third player from Brighton Road to win the award, joining current team mate Luke Partington (2019) and Brett Backwell (2003). He also again won the Bays best and fairest for the season.
He is also a 5-time winner of the prestigious Snout's Louts Player of the Year perpetual award - 2014-15, 2017-18, and 2020.
Matthew is brother to Shannon Snook.
See also:
2. SANFL video - Matthew Snook wins 2019 Jack Oatey Medal
References
2. SANFL: Matthew Snook wins the Jack Oatey Medal