James Sellar
From Snoutslouts
Career Highlights
Other Career Highlights
Adelaide Football Club (AFL) 2008 -
* Stats current to end of 2011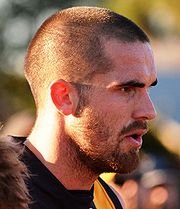 Biographical
Born: 24 March 1989
Height: 195 cm
Weight: 89 kg
Recruited from:
Previous Club:
GFC League Debut: 2006

Guernsey Number: 28
A Glenelg junior product, James Sellar was a first round draft pick by local AFL club Adelaide. He was selected at the 2006 AFL at No. 14 overall, considered a bargain pick at the time considering he was touted as a potential top-5 pick. Sellar was educated at Brighton Secondary School along with other AFL draftees Bryce Gibbs and Mark Austin. At 196cm and weighing 95 kg, Sellar is a key position forward who can also help out with some ruck duties.
Sellar represented Australia in the International Rules Youth Test between Australia and Ireland, and has also represented Australia in Volleyball, in the Under 19 Internationals in Taiwan. He was named best player at the national Under 16 Championships in 2005, and also played in the Under 18 national championships in 2006. He spent most of his early AFL career playing for Glenelg in the SANFL, playing only a handful of games for the Crows despite being named as an emergency on numerous occasions. When playing for Glenelg, he lined up as a forward / ruckman.
Delisted by Adelaide FC in 2011, he was picked up by Melbourne (AFL), thus bring to an end his Glenelg career.
References
2. Glenelg Football Club 2010 Annual Report and Yearbook