Grand Final 2019
From Snoutslouts
(Difference between revisions)
(side note)

Line 366:
Line 366:

|}

|}

+
+
+

== See also ==

== See also ==
---
Current revision as of 07:03, 13 June 2021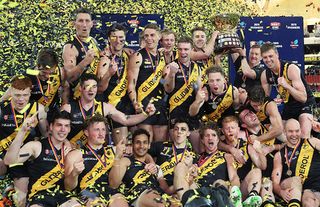 Glenelg went into the 2019 Grand Final having lost a fortnight before by 4 points to their opponent - and traditional Grand Final nemisis - Port Adelaide. Coach Mark Stone had planned well and this time around had answers for all Port's tactics. The miserly defence held solid and the powering, forward-at-all-times style of play held true. The 33 year premiership drought was over!
GRAND FINAL Sunday 22nd September 2019
Glenelg:
4.1
6.2
9.5
11.7 (73)
Port Adelaide:
0.3
2.7
5.8
6.9 (45)
Goalkickers
Glenelg: Motlop, Scott 3, Reynolds 2, Partington, Close, Nicholson.
Port: Sutcliffe 3, Cox 2, Frampton.
Best
Glenelg: Snook, Agnew, White, Motlop, Reynolds, Partington, Curran, Proud.
Port: Sutcliffe, Garner, Frampton, Lienert, Drew, Mayes.
UMPIRES - Crosby, Bryce, Harris.
CROWD - 39,105 at Adelaide Oval.
JACK OATEY MEDAL - Matthew Snook (Glenelg).
Team line-ups
GLENELG

1 McBean, Liam

2 Scharenberg, Jonty

3 Snook, Matthew

4 Joseph, Aaron

5 Curran, Chris (C)

6 Agnew, Bradley

7 Reynolds, Luke

8 Motlop, Marlon

9 Bailey, Darcy

10 Partington, Luke

11 Bradley, Andrew

14 McCarthy, Bradley

15 Scott, Joshua

16 Gregson, Cory

18 White, Jesse

19 Proud, Max

21 Uebergang, Matthew

23 Close, Bradley

29 Virgin, Michael

31 Gould, Will

45 Nicholson, Carl

COACH: Stone, Mark

PORT ADELAIDE

1 Sutcliffe, Cam (C)

9 Appleton, Matthew

10 Davidson, Sam

12 McKenzie, Trent

13 Marshall, Todd

14 Frampton, Billy

19 Trengove, Jack

24 Farrell, Kane

25 Hayes, Sam

27 Garner, Joel

28 Drew, William

30 Atley, Joe

34 Mayes, Sam

36 Woodcock, Boyd

38 Ladhams, Peter

40 Lienart, Jarrod

42 Corcoran, Tom

44 Hewett, Cam

45 Frederick, Martin

47 Cox, Tobin

50 Elsworthy, Jack

COACH: Lokan, Matthew
Match Reports from The Advertiser
Glenelg ends SANFL grand final pain in style against nemesis Port Adelaide

Glenelg has ended a run of five consecutive grand final losses to its bitter arch rival Port Adelaide by beating the Magpies at their own game.

by Andrew Capel, The Advertiser September 22, 2019

This was payback for 42 years of pain and misery inflicted on it by Port Adelaide.

Glenelg on Sunday ended a run of five consecutive grand final losses to its bitter arch rival, dating back to 1977, by beating the Magpies at their own game.

Where once the Tigers were made to look like cat by their nemesis in grand finals, this time the tables were turned.

Glenelg — under master coach Mark Stone, in just his second year in charge — produced the tough, aggressive football that has been the hallmark of Port in big games in its glorious history.

Without a flag since 1986 and having been on life support financially just three years ago — the doors were close to being shut — the Tigers used the fighting spirit of their coach, president Nick Chigwidden and a strong board, to play with a fierce determination that won the game against a power-packed team fielding 17 AFL-listed players.

"They reminded me of how Port Adelaide usually plays in grand finals,'' said six-times Magpies premiership player and triple premiership-winning coach Stephen Williams on ABC radio.

"They were great, they didn't give Port a sniff.

"Every player was totally committed to the cause, they sacrificed their bodies for their teammates and played great team footy.

"It was a superb, team-oriented grand final performance. They were measured, they never panicked, they held their nerve and they all did their job, which is what you have to do to win on grand final day.''

Glenelg — just like it did in the preliminary final against Adelaide — jumped out of the blocks.

Former Magpie Luke Reynolds got the ball rolling for the underdog when he kicked truly under pressure from 40m.

Wingman Carl Nicholson booted his first goal for the season with a wobbly punt after some smart work from teammate Darcy Bailey.

Brad Close and Josh Scott (from a strong, juggled mark in the goalsquare) then put the Tigers four goals up as they booted the only four goals of the first term.

When Reynolds, who bagged five in last week's win against the Crows, snapped brilliantly at the northern end of the ground in the opening minute of the second term, Glenelg's lead was out to 28 points.

But — under serious pressure and with the game in danger of slipping out of their grasp — the Magpies suddenly lifted.

Joel Garner won some key defensive contests and Billy Frampton started to impose himself on the game at the other end.

He used his physicality and aggression to push opponents out of the way and be involved in Port's first two goals.

The Pies drew to within 13 points in the second term but a goal in the first 45 seconds of the third quarter to Scott pushed the Bays clear again.

They never gave the Magpies another sniff, despite captain Cam Sutcliffe's third quarter heroics when he kicked all three of Port's goals for the term to keep it alive.

But when Scott goaled in the first minute of the final term, the game was over.


Suddenly, the number of Glenelg premiership players rose from 63 to 84.

Port laid 14 more tackles.

But the Tigers laid the ones that counted most.

When they wrapped their arms around a black and white jumper they held tight.

"Our primary measure is effort,'' a jubilant Stone said after the 28-point win.

"Our tackling was great and so was our pressure around the ball, we just wouldn't let the ball out.

"We never lost belief this year and we deserved this.''

The Tiger army is roaring again.




---


Tiger time: Glenelg breaks SANFL premiership drought in stunning grand final win against Port Adelaide Glenelg has broken its 33-year SANFL premiership drought in stunning fashion against Port Adelaide in front of more than 39,000 people at Adelaide Oval.

by Warren Partland, Daniela Abbracciavento, The Advertiser September 22, 2019


Glenelg has Port's grand final measure … at Adelaide Oval

Just three years after the Save the Tigers campaign was launched amid a financial mess, Glenelg has snapped a 33-year premiership drought, with a team-driven 28-point triumph over Port Adelaide in Sunday's grand final at Adelaide Oval.

The Tigers, seriously in danger of having their doors locked shut forever with mounting debts in 2016, were never headed and found all the answers whenever challenged, to claim their first premiership since 1986 and the fifth in the proud club's history.

The victory was a personal triumph for coach Mark Stone in only his second year in charge.

Port has now been beaten in the final game of the season in three of the six years it has been the Power reserves.


As predicted, Port captain Cam Sutcliffe went straight to Magarey Medallist Luke Partington in a repeat of the ploy from the second semi-final.

There were plenty of nervous moments from both sides in the early minutes with fumbles and clumsy skill errors.

Tigers forward Luke Reynolds gave his team the chance to settle three minutes into the contest when he kicked a goal while be being pressured.

Eight minutes later, Carl Nicholson capitalised on a tremendous smother from teammate Darcy Bailey to nail the second goal for the Tigers and grow their confidence.

Port forward Billy Frampton, who successfully appealed a striking charge to play, missed a couple of set shots in front of goal, and dropped some marks before heading to the bench for treatment on what appeared split webbing in the hand.

Ball magnet Jack Trengove was getting his hands to plenty of possessions for Port, who dominated the clearances.

But it was the Tigers applying the scoreboard pressure with Brad Close and Josh Scott bagging goals to give their side a 22-point advantage at quarter-time.

When Reynolds got a favourable bounce to snap a goal only a minute into the second quarter, the Tigers had built a handy 28-point buffer.

It took Port 12 minutes into the second term to register their first goal when Tobin Cox with kicked truly with his first disposal.


Joel Garner was outstanding in defence for Port and as the second quarter lengthened, his side grabbed more control of the contest. Port got its hands to more ball and spent lengthy periods camped in attack to put the Tigers' defence under the pump.

As with any grand final, there were the inspirational moments, such as Tigers defender Aaron Joseph's desperate sprint to knock the ball through for a behind.

While Port had its chances, so too did the Tigers, who wasted some prime scoring opportunities with skill errors and poor decisions.

Just 40 seconds into the third quarter, the Tigers forced the ball forward to eventually find Scott running towards goal and his wobbly kick sailed through.

Marlon Motlop then put his name on the highlights' reel, knocking the ball towards the boundary line, before regathering and evading a defender to snap an amazing goal.

Frampton was a concern for the Tigers' defence and after he took a strong mark, the ball landed with Sutcliffe who kicked a captain's goal from 50m

Port threw Trent McKenzie forward and Todd Marshall to defence searching for answers.

The Tigers appeared to go defensive and were put under pressure by Port, which ate into the deficit on the back of two more goals from Sutcliffe.

In a repeat of the previous three quarters, the Tigers got an early goal in the final term courtesy of Scott after just a minute and they never looked back.

Matthew Snook was huge for Glenelg, finishing the match with 28 touches to earn the Jack Oatey Medal.

---

The Tigers — battling for their football survival just three years ago because of major financial issues — had not won a premiership since trouncing North Adelaide in 1986.

They have played in five grand finals since and lost them all — to the Roosters in 1987, Port in 1988, 1990 and 1992 and Central District in 2008.

Earlier, Norwood won the reserves premiership after beating Woodville-West Torrens by 19 points in the early game.


Glenelg, which last played in the finals in 2011, rose remarkably from sixth last year to minor premier this season under impressive second-year coach Mark Stone.

But it lost a pulsating second semi-final to the Magpies by four points and had to earn its spot in the big dance with a come-from-behind, 27-point win against the Crows in the preliminary final.

---

RECAP THE MATCH

FOURTH TERM

The Bay is set to erupt after Glenelg stunned Port Adelaide to win its first grand final in 33 years.

Glenelg dominated from the outset, running out 28 point winners in the SANFL grand final in front of a crowd of 39,105 people at Adelaide Oval on Sunday.

The Tigers were too strong, too fast and too skilful from the first bounce, prevailing 11.7 (73) to 6.9 (45).

They suffocated the Magpies with intense pressure and always had an answer when Port asked the question.

THIRD TERM

Glenelg is now less than 30 minutes away from claiming its first flag since 1986.

The Tigers have produced a stunning performance so far in this year's SANFL grand final against Port Adelaide at Adelaide Oval to take a 21-point advantage into three-quarter time.

A magical goal from Marlon Motlop early in the third quarter summed up the Tigers' day.

Motlop sold some candy on the boundary line and booted his second major to put Glenelg 30 points in front.

The Tigers have looked way too composed, quick and skilful compared to the Magpies, whose youngsters struggled to deal with the pressure of the occasion.

The Magpies had plenty of the ball again late in the quarter and a huge smother from Willem Drew plus two big goals to skipper Cam Sutcliffe — who has three for the match — helped lift them.


But Port's SANFL side was reminiscent of its AFL counterparts this season with erratic kicks inside forward 50 and poor goal kicking and the Tigers lead 9.5 (59) to 5.8 (38).

Luke Reynolds, Motlop and Josh Scott have two goals each for the Tigers.

Matthew Snook leads Glenelg's possession-getters with 22 touches, while Sam Mayes and Jack Trengove have 20 disposals each for Port.

SECOND TERM

Port Adelaide cut Glenelg's lead to 18 points at half-time following strong midfield work from Jack Trengove, Joe Atley and Willem Drew.

The Magpies had plenty of chances to edge even closer but squandered opportunities inside 50 with too many long bombs into attack.

Tobin Cox finally kicked the Magpies first goal at the 12th minute mark of the second quarter and Billy Frampton finally nailed a major after missing two in the first term.

Marlon Motlop ensured the Tigers still held the Magpies at arms length with a 6.2 (38) to 2.6 (18) advantage.

Port lifted its intensity after looking fumbly and nervous in the first term but the Tigers remained hungry.


Their desperation shone through with ferocious defensive pressure and tackling.

Glenelg's advantage came despite Port leading the hit-outs (20-13) and clearances (20-14).

Sam Mayes and Jack Trengove (14 touches each) led the way for the Magpies, while Brad Agnew, Matthew Snook and Chris Curran (10 disposals) were Glenelg's leading possession-getters at the main break.

FIRST QUARTER

Glenelg shot off to a hot start in the SANFL grand final, taking a 22-point lead into quarter-time.

Both the Tigers and the Magpies struggled with nerves early but it was Glenelg which took less time to settle.

Glenelg's Luke Reynolds booted the first goal of the game against his former side, while Carl Nicholson, Brad Close and Josh Scott also kicked majors in the first term for the Tigers.

Port was inaccurate in front of goal in the first term with Billy Frampton and Sam Mayes both missing crucial shots.




Frampton, meanwhile, went off midway through the first stanza with split webbing in his hand.

Nicholson is the Tigers' leading possession-getter with seven, while Jack Trengove has nine touches for the Magpies as Glenelg takes a 4.1 (25) to 0.3 (3) advantage into the first break.
---
As a side-note: this was the last SANFL game in which the Magpie logo appeared on the Port Adelaide guernsey, although the club still referred to their SANFL side as Magpies.
See also
2. Purchase a complete copy of this match on DVD
3. Image Galleries: Grand Final 2019
References
1. The Advertiser newspaper
2. SANFL 2019 grand final Football Budget