2016 Under 18 Premiership
From Snoutslouts
(Difference between revisions)
(add pic)

Line 1:
Line 1:
+

{| border="1" cellpadding="5" cellspacing="0" style="text-align:center" width=50%

{| border="1" cellpadding="5" cellspacing="0" style="text-align:center" width=50%

|-

|-
---
Current revision as of 09:13, 11 October 2021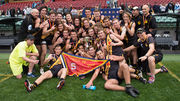 Glenelg
2.5
3.11
4.16
6.20 (56)
North Adelaide
3.3
4.5
4.7
8.7 (55)
Glenelg

Goal Kickers: Davis 2, Milera, Martini, Strange, Cock
Best Players: Scharenberg, Fogarty, Buchanan, Davis, Mackie, Cock, Hinge, Pink
Match Report
TICKLED PINK
Toby Pink the hero as Glenelg pulls off the great escape
By ANDREW CAPEL

When Tiger Toby Pink sized up the uprights 65 metres from goal seconds after the final siren had sounded in the under-18 SANFL grand final he was thinking of extra-time.
"I thought I was too far out to score and that we'd be going to extra-time,'' the 195cm key forward said before his freak kick would make him an instant hero.
"I wasn't too nervous because I knew if I didn't score we'd still have the chance to win in extra-time so I just tried to kick the ball as far as I could and hope for the best.
''With scores level after a wasteful Glenelg had fought back from a 14-point deficit midway through the final term against North Adelaide, 18-year-old Pink, who marked strongly overhead just before the final siren, let fly into the wind.
His long bomb landed just inside the southern goal square at Adelaide Oval and somehow, remarkably, evaded 11 Roosters players - one got a glancing first to the ball - and eight Tigers to bounce through for a behind and hand Glenelg its first under-18 premiership since 2010.
The unlikely score sparked jubilant scenes among the Tiger players and saw the North team collapse to the ground in disappointment and disbelief.
"I was shocked to see it go through too,'' Pink said of his history-making kick that became an instant internet hit.
"I just booted it and somehow it cleared the line.''
Glenelg coach Tyson Edwards, a legendary Adelaide Crow who played 321 games for the club from 1995-2010, described the finish as the most extraordinary thing he's seen in football.
He revealed he thought Pink had no chance of scoring and that he was busy working on his match-up board for the extra-time period when his big forward's kick found its way through a wall of players.
"Then I heard all this yelling and looked up and saw our players celebrating,'' said Edwards, who played in the Crows' 1997 and 1998 grand final wins.
"I couldn't believe it because I didn't really give Toby a chance of scoring from there, being 65m out and kicking into a breeze.
"I'd never seen anything like that before. I thought Toby was too far out and that the match was going to be a draw so I was preparing my match-ups for extra-time when the ball somehow got through for a score.
"You couldn't script that sort of finish.''
The flame-haired Pink's behind gave Glenelg a thrilling one-point win, 6.20 (56) to 8.7 (55), after it had nearly kicked itself out of a match it controlled for long periods but then looked like losing.
The Tigers had 11 more scoring shots and eight more inside-50s but lost a nine-point three-quarter time lead to fall 14 points behind when the Roosters kicked the first four goals of the final term.
Jack Strange and Harry Cock goaled to get Glenelg back in the contest before Tantanoola product Pink sealed the deal.
"It was a remarkable finish,'' said Edwards.
SA under-18 vice-captain Jonty Scharenberg won the Alan Stewart Medal as best-afield with 34 disposals, five clearances and 12 tackles in a dominant midfield display while key forward Sam Davis was the Bays' only multiple goalkicker with two.
But Pink, who would later be selected by Sydney at pick 54 in the AFL rookie draft, was the hero.
"I gave Toby best player back at the club,'' Edwards said with a smile.
See also
Video: Toby Pink's behind to win Glenelg the 2016 Macca's Cup Grand Final
Reference
Glenelg Football Club Annual Report 2016